Sweet and Salty Nuts and Cranberries
iris5555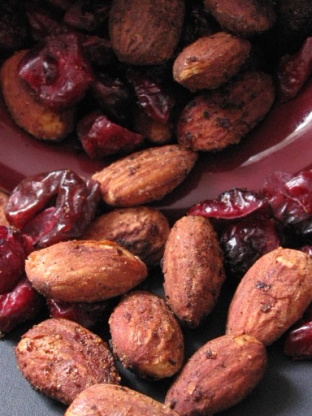 This looked so good I had to copy it down. It is from Dishing Up Maine by Brooke Dojny and looks like the perfect snack to serve with drinks. If you don't have Cajun seasoning there is a combination of peppers listed below that you can use as a substitute.

At first I was going to rate this a 4 star. I made it as prepared and it is good, but I felt like it was missing something. I added about 1/2 cup semi-sweet chocolate chips and it was perfect. The addition of the chocolate is what was missing...IMO. Thanks for a great recipe. Really watch your oven. The almonds can scorch very easily.
Preheat the oven to 350°F.
In a bowl toss the almonds, butter, sugar, and Cajun seasoning (you may substitute 1/2 teaspoon black pepper, 1/4 teaspoon cayenne pepper and 1/4 teaspoon white pepper for the Cajun seasoning).
Pour the nut mixture onto a rimmed baking sheet. Roast, stirring occasionally until nuts are one shade darker - about 25 minutes. *Note - the time may be less if you are using almonds that are already roasted.
Remove from oven and sprinkle with salt.
Set aside to cool.
When cool toss the nuts with the cranberries.
This will last 1 week at room temperature or 3 weeks in the freezer.