Sweet and Salty Cereal Bars
GaylaJ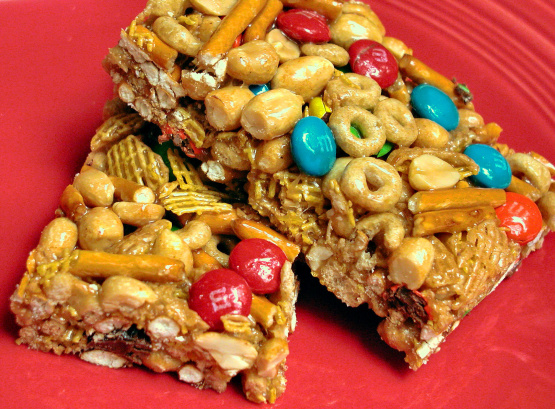 Tasty way to satisfy those "sweet and salty" cravings. :) I found this recipe online while searching for a way to use up the rest of the Crispix cereal I had purchased for another recipe.

This recipe is wonderful! I followed as planned but did not have mnm's so I used chocolate chips instead. They were great! Also, A little tip I picked up somewhere. Put your hands under cold water and use them to press the bars into the pan. Your hands will not stick....just get a little messy, but it works really well. :)
Combine cereals, peanuts, and pretzels in a large bowl.
Combine corn syrup, brown sugar, and butter in a medium saucepan and bring to a boil over medium heat; boil 3 minutes, stirring constantly. Stir in vanilla.
Immediately pour sugar mixture over cereal mixture, and stir well to coat; stir in M&Ms.
Using a greased spatula, press mixture tightly into a greased jellyroll pan (approximately 15X10 inches) and cool at room temperature. (I spread it as evenly as I could, then covered with a sheet of non-stick aluminum foil and pressed it out firmly and evenly.).
Cut into bars when completely cooled.