Sweet and Hot Garlic Sauce
Hadice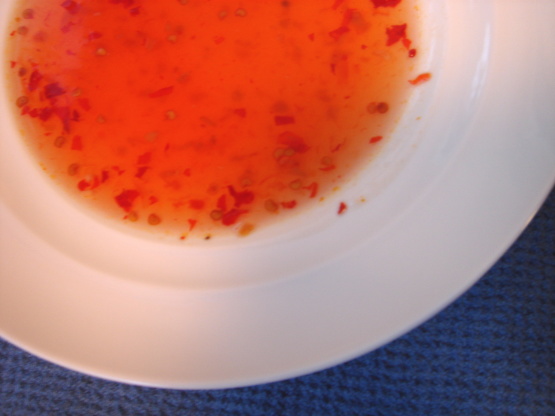 From the book "Real Vegetarian Thai." It's one of my new favorites--I put a tablespoon of it in just about everything I stir-fry. If you're not a spicy fan, you can turn down the heat by adding less of the chili sauce.

EDIT: I refrigerated the remainder of this sauce overnight and it had the consistency of jelly the next morning...this would be an awesome variation on cream cheese and spicy jelly! Can't wait to try! This sauce is AMAZING! I was on the hunt for a sweet and spicy thai-style sauce like you get as a side with different appetizers at most thai restaurants we've been to and this was just about it! I liked that you could reduce this to be more of a sauce or you could leave it thin and use it for dipping. Easy, easy, easy and I always have the ingredients on hand. Served over thin sliced chicken breast, matchstick zucchini and white rice for a DELICIOUS meal. DH and I both agree that we'll always need a batch of this on hand...what about reduced well then served over cream cheese? Yum!
1

cup unbleached cane sugar
1⁄2 cup water
1⁄2 cup white vinegar

2

tablespoons minced garlic

1

teaspoon salt

1

tablespoon hot chili sauce (you can find this at any asian market; usually it's the korean brand with the bright green top. If y)
In a saucepan, comine the sugar, water, vinegar, garlic and salt.
Bring to a boil over medium heat until the sugar is dissolved.
Turn to medium-low and keep cooking until the sauce is a little syrupy (18-25 min).
Remove from heat and add the chili sauce--mix well; it will turn a nice amber-orange.
Let cool to room temperature, then keep refrigerate in an airtight jar for up to three weeks.
When using, heat a little bit until it thins to a slightly syrupy consistency.