Bayhill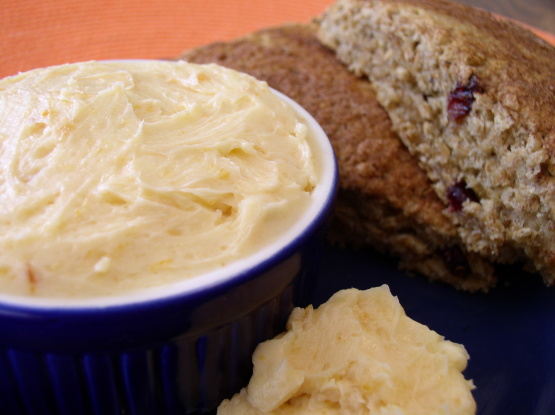 This is from a Land O Lakes butter package. Says it's easy to make and is good on pancakes or muffins. I don't like fruit so I'm not going to try it, but it's an interesting idea and a nice alternative to other spreads. You can use your favorite fruit flavor (strawberry, blackberry, pineapple, raspberry, etc.).
Yummy!! This quick and easy spread adds lots of flavor to scones, muffins, etc. I used apricot preserves and increased the amount to 3 TBS. I whipped it up in my mini-food processor and it turned out perfect. I can't wait to try it with other flavors of preserves. Thank you for sharing this wonderful recipe...it is definitely a keeper. I made this for PAC spring 2007.
Combine all ingredients in small bowl.
Beat at medium speed until smooth.
Store refrigerated in container with tight fitting lid up to 2 weeks.