Sweet and Creamy Butternut Squash Soup
876645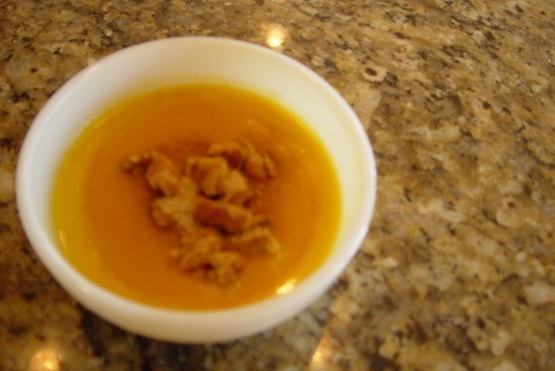 This filling soup serves well as a healthy dessert (squash is an excellent source of magnesium, potassium, vitamins C and A, and a good source of calcium). It can be served hot or cold and has an interesting texture. I like this recipe because it is simple to make, yet has a lovely flavor. If you enjoy a thicker, more custard-like consistency you can use less than the directed amount of skim milk. If you prefer a soupier thickness, then you should add more skim milk during the simmering process.

I just made this using 1% milk and regular brown sugar and it was delish! I did make a much smaller batch 2 servings (about 1/2 lb of squash) and noted that you need more liquid while cooking the squash than the conversion tells you - I ended up added about 1/4-1/3 C water while steaming the squash. Otherwise, fantastic!
Heat olive oil in a large frying pan on low.
Add squash and spices.
Stir-cook on low for three minutes and then add water.
Cover pan and increase heat to level six.
Allow to steam for ten minutes.
Remove from heat and blend contents of pan in a food processor with 1/2 quart of skim milk.
Pour food processor mixture into a pot and add Splenda brown sugar blend.
Heat to level 6 while stirring in the remaining skim milk. (The amount of milk added is variable to desired texture.).
Cover and simmer on level 4 for 15 minutes.
If serving warm, ladle soup into bowls and garnish with crushed walnuts and cinnamon. (An alternative is to use more Splenda Brown Sugar Blend).
If serving cold, refrigerate for 2 hours and then follow previous instructions.