Sweet Acorn Squash With Apples and Craisins (Crock Pot)
jenne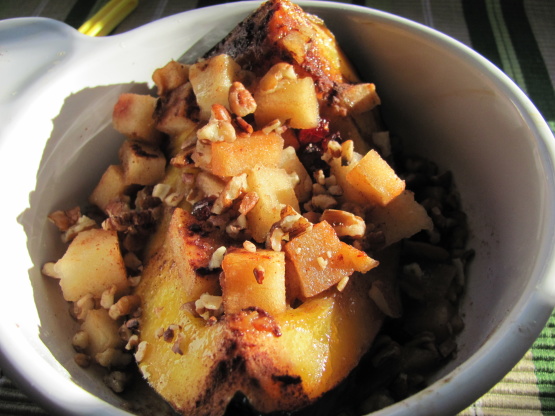 I was on the search for a crock pot method for acorn squash and wasn't happy with what I found. . .so I took a little from each recipe and created my own. The results were outstanding. If you have any leftovers, simply scoop out the pulp, apples, craisins and mix with juices in crock pot, mash slightly and freeze for a side dish at a later date! This recipe is quite forgiving, so don't worry about measuring everything out exactly. In our house, we eat this as a main course with a small salad on the side.

Top Review by tarab5
I'm not a fan of squash, but made this for Thanksgiving because my mom is. I cut my squash into eighths because the quarter servings were too big. Of course that meant no "cup" to hold the bits and juice, but it worked out just fine. I served in bowls and poured the juice on top. As far as squash goes, I thought this was pretty good, but my mom wasn't wowed so I won't make again.
Turn crockpot to HIGH to get it warm while you fill it up.
Pour apple juice in bottom of crockpot.
Place squash, cut side up, in bottom of crockpot.
On top of each piece of squash, sprinkle with salt, followed by 1/2 T butter, 1/2 T brown sugar, and 1 T dried cranberries.
Sprinkle apples in and around the squash (about 1/4 cup will fit piled up on each squash).
Juice lemon over the top of the apples, then sprinkle with the cinnamon and pour the maple syrup over the top.
Cook the squash on LOW for 4-6 hours or HIGH for 2.5-4 hours. NOTE: crockpots are not created equal as far as temp goes and we will all buy different sized squash. . .that being said, cook times will vary. . .I don't mind eating mushy squash, but you can't eat undercooked squash simply because you can't cut it :) I cooked mine on low for 4 hours and it wasn't done so I cranked it up to high for 1 hour and it was perfectly cooked.
When squash it tender, place each piece on a plate and sprinkle with the nuts.
OPTIONAL: I am bad, so therefore I put another 2T of cold butter in with the apple juice and remaining apples on the bottom of the crockpot and stir til the butter is melted and then spoon the "sauce" over the top of the squash. If you like yours really sweet (as I do), feel free to drizzle it with more maple syrup or honey.