diner524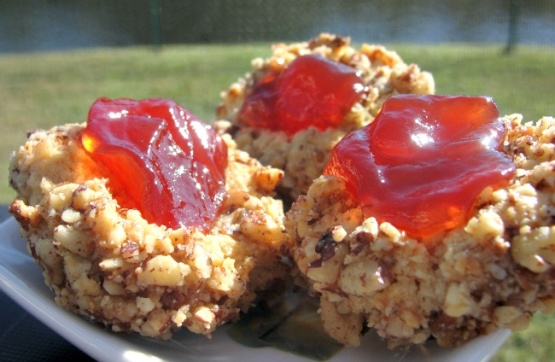 From "Company's Coming: Most Loved Treats" cookbook. As any Canadian knows, all Company's Coming cookbooks ROCK! Posted for ZWT #6...
Fantastic cookies!!! Every Christmas my Mom made a similar type of cookie, thumbprint cookies, which I now make and these are as good, if not better. I looked up our recipe and it is the same except for it uses part shortening and part butter. Using my cookie scoop, it made about 20 cookies. This recipe made as a "Thank You" to my dear PAC Mom!!!
1⁄4 cup brown sugar, packed

1

large egg yolk

1

cup flour
1⁄2 teaspoon baking powder
1⁄8 teaspoon salt

1

large egg white, fork beaten
2⁄3 cup nuts, finely chopped (your favourite)

6

tablespoons red jam (your favourite flavour)
Preheat your oven to 325 F.
Cream margarine and brown sugar in a large bowl. Add egg yolk and beat well.
Combine flour, baking powder, and salt in a small bowl. Add to margarine mixture, stirring until stiff dough forms. Roll dough into balls, using 2 tsp for each.
Dip balls into egg white, then roll in nuts. Arrange balls, about 2 inches apart, ona greased cookie sheet. Dent each one with your thumb.
Bake for 5 minutes, then remove from oven and press dents again. Bake for 10 to 15 minutes until golden. Let stand on cookie sheets for 5 minutes before moving to wire racks.
Fill each dent with 1 tsp jam - if storing, store without jam and just fill the dents before serving.