AB_Fan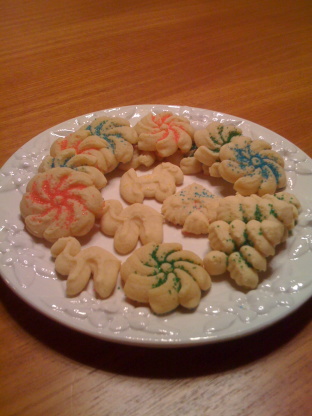 For these you will need a cookie press. The cookie press works a lot like a Play-Doh toy, and usually comes with an assortment of round disc templates for squirting out stars, hearts, pinwheels, shamrocks, Christmas trees, deco braid, and camels - Watch out, they spit!
1 1⁄2 cups butter, softened (margarine does not work well in this recipe)

1

cup sugar

1

egg

1

teaspoon vanilla extract

1

teaspoon almond extract

4

cups flour

1

teaspoon baking powder
colored sugar crystals (for decoration) (optional)
food coloring (for decoration) (optional)
Cream the butter and sugar together in a large bowl.
Add egg, vanilla extract, and almond extract. Mix well.
Sift together the flour and baking powder.
Add to the creamed mixture, and mix until smooth.
Do not chill.
If you want to color the dough, separate into portions and mix in a few drops of food coloring before forming cookies. (For example, you can make green christmas trees, red hearts, yellow camels, etc.).
Fill cooky press with dough and force dough through the press.
You can sprinkle colored sugar on cookies before baking.
Bake cookies at 400 degrees (F) for 8-10 minutes.