Swedish Spinach Soup - Spenatsoppa
PaulaG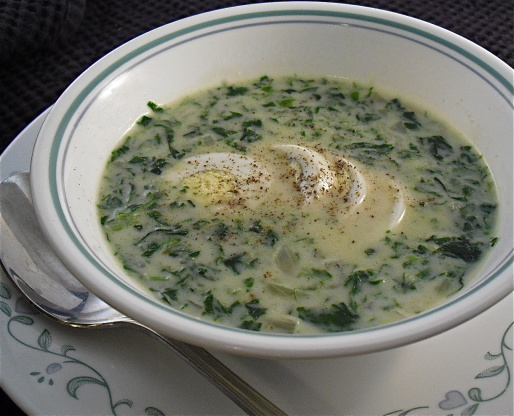 This recipe was adapted from one found in scandinaviafood.com. It is an autumn favorite, typically served with hearty bread.

It is easy ,delicios and healthy.I like it
Drain and dry the defrosted spinach.
Melt the butter in a skillet over medium heat and add the onion and spinach. Fry until the onions are soft.
Dust the flour over the spinach mixture and add the water and bouillon. Let simmer for 10 minutes.
Add the milk and season with salt, pepper and nutmeg.
Slice the hard boiled eggs.
Divide the soup in 4 bowls, and top each with approximately 1/4 of the egg slices. Serve with bread for a complete light meal.