Swedish Pheasant (Or Chicken) in Gjetost Cream Sauce
teresas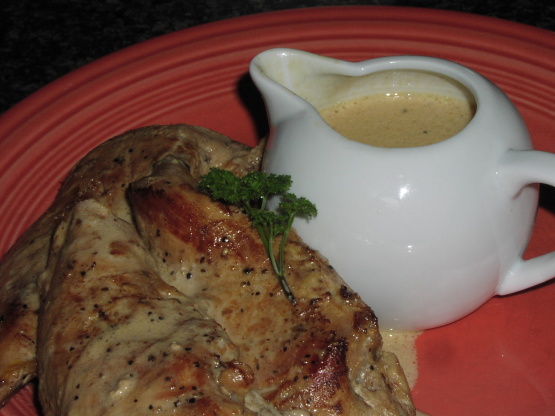 This is from "Best of Scandinavian Cooking".. Cjetost is a creamy, tan, Swedish cheese that has a rich, caramelly taste. It is really good just eaten with slices of raw apple too. I haven't made this yet.

Delicious! We just loved the flavors in this dish...even through there isn't a lot of spices or herbs it turned out full of yummy goodness...I think the cheese is the reason for that...it really does have a caramel taste to it, yet it's not overly sweet...the pheasant turned out tender and very moist with all the creaminess in the sauce...I did toss in the vinegar...not sure if we noticed it or not...I served this with cooked noodles for the extra gravy and some peas...this is a keeper...thanks for posting it!
Sprinkle poultry with salt and pepper to taste. In a heavy frying pan, quickly brown poultry on all sides in melted butter.
Reduce heat to low. Pour cream over it. Cover and cook over low heat about 1 hour or until very tender. Turn pieces and stir cream in bottom of pan occasionally.
Remove bird to hot serving platter. Mix flour to a paste with a little of the milk. Stir in some of the simmering liquid from the frying pan. Cook and stir over low heat to blend. Gradually add milk, stirring to make a smooth sauce.
Just before serving, stir in cheese. Heat just until cheese is melted and blended. Taste sauce and correct seasoning if necessary. Stir in a few drops of vinegar if desired. Turn sauce into gravy boat. Pass it to put over the poultry.
NOTE: Vinegar gives a slightly sweet-sour character to the sauce; add if you prefer a sharper poultry sauce.