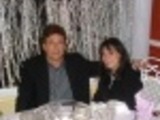 Everyone likes regular baked beans, but why not try them with a Swedish touch when you want a change? Posted for ZWT 6.
Directions
In a large skillet, over medium heat, combine all the ingredients except the cornstarch and water; mix well and cook for 10 minutes. In a small bowl, combine the cornstarch and the water, then add to the bean mixture, stirring occasionally until heated through. Serve immediately or simmer until ready to eat.
Most Helpful
Sweet and Sassy! I like my beans like this. I cut the recipe down for one serving and left out the cornstarch and water because I thought it didn't need thickening. Made for ZWT 6.
1st off disregard the bad rating the person that did it gave bad reviews to others.that being said these are tart good tasting and easy cooked some bacon with beans zwt9

These are not Brunor Bonor! Swedish baked beans DO NOT use kidney beans, they DO NOT use tomato sauce or worchestershire sauce. And they are most definitely supposed to be baked. Try http://scandinavianfood.about.com/od/vegetablesidedishes/r/brunabonor.htm for a better recipe.