Swedish Mushroom Meatloaf
lazyme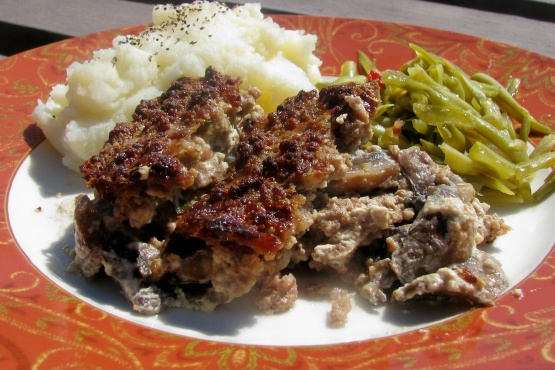 For ZWT 6. This recipe comes from the World Hearth Circle of International Cooking. I can't wait to try this. It sounds delicious.

This is for people who hate meat loaf! I have always disliked meat loaf. Hubby however, likes it. For over 30 years I have tried various receipes and never liked one. This however, made me a meat loaf lover! It was moist, had a great texture, was not greasy, and was loaded with flavor. I made it as written, but had to use Panko crumbs as that was all I had in my pantry. I wil be making this again and again. I might give it a go using ground chicken and chicken broth.
Saute scallions and mushroom in butter. Remove from heat and mix in sour cream.
In a separate bowl, mix all other ingredients except parsley.
Place 1/2 of the meat mixture into a loaf pan.
Make an indentation down the loaf, lengthwise, and spoon mushroom mixture into indentation.
Put the other half of the meat mixture on top and make sure that mushroom mixture is completely covered.
Bake at 350F for one hour.
Garnish with parsley to serve.