Swedish Meatballs from 1960's
xtine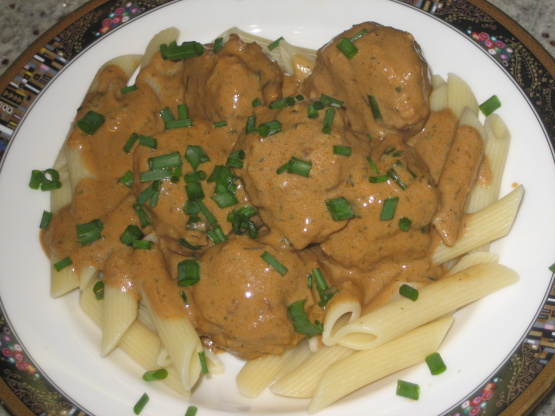 I clipped this recipe from a magazine almost 40 years ago (started collecting recipes in my teen years). I must have made this recipe at least zillion times (LOL) and that's how much I love this recipe. Since my first introduction to Swedish meatballs through this recipe, I've tried many different variations. Some I like a lot like that one from Aquavit by Marcus Samuelsson and others, well, they were one time only recipes. But, I keep coming back to this recipe when I want Swedish meatballs. I kept it as -my own- secret recipe, but it's time to share with everyone. Hope you enjoy! Goes really well with egg noodles. Note: if you don't have fines herbs, just use any combination of herbs. I use Kitchen Bouquet for liquid gravy seasoning, but if this is not readily available, you can use other gravy seasoning. If you don't have green scallions, you can use all dill. The taste of dill is important in this recipe. The earlier version had chives and dill but since most people no longer keep chives, this recipe was changed to green scallions and dill.

I made a quarter recipe of the meatballs but half a recipe for the sauce. Great with egg noodles.
In a small bowl place bread cubes in milk to soak. Melt 2T butter or margarine in a small skillet and saute onion until golden. In another bowl combine salt, pepper, nutmeg, paprika, mustard and fines herbs. Set aside. Press milk from bread, combine with onions, mixed seasonings, ground beef, eggs. Form into 50 1 1/2 inch balls. Chill.
In a large deep skillet, melt 2T butter or margarine. Brown meatballs, a single layer at a time. Remove meatballs from the skillet. Set aside.
Prepare sauce in same skillet. Saute garlic 2 minutes. Mix flour with broth and add to skillet with liquid gravy seasoning (Kitchen Bouquet), tomato paste, and liquid smoke. Over medium heat, stir until thick. Reduce heat to low and slowly add sour cream, green scallions, dill and meatballs and let the mixture simmer for minimum 10-15 minutes. Do not boil.