KaraRN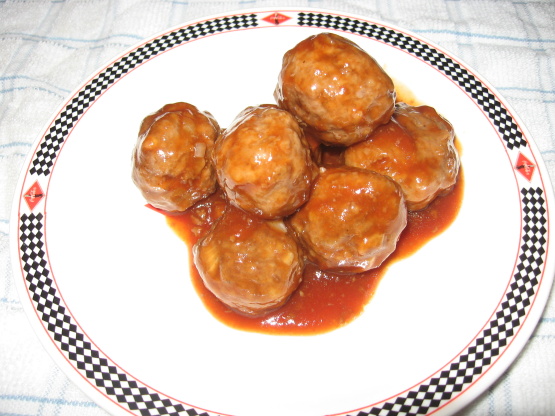 Sweet and delicious! This recipe came from a good family friend. We have made these many times over the years. These are often requested for me to make. I have taken these to many potlucks by placing them in the crock pot once they are done to keep warm.

Top Review by Gerry
Knew we were going to enjoy these meatballs - love those old recipes that have ketchup and Worcestershire in the sauce ... the basis for a good many of our prairie comfort foods. Made as posted and wouldn't change a thing. Have added this to my recipe file. Thank you and thank your family friend - happy you shared!
Mix ground chuck, crackers, eggs, and onion. Make into meatballs.
Place in pan.
Bake at 350°F for 30 minutes.
While meatballs are cooking during this 30 minutes is a good time to mix up your sauce by mixing the ketchup, brown sugar, Worcestershire sauce, and vinegar.
Remove from oven and drain excess grease.
Return to pan.
Pour sauce over meatballs, and stir to coat all the meatballs.
Bake another 30 minutes at 350°F until meatballs are cooked through.