Bergy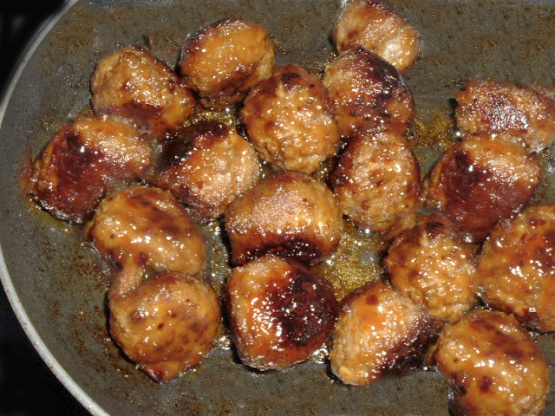 This is Alton Brown's. It is so close to my mom's meatballs made at Christmas time each year. I love them.

Top Review by Sally
These weren't bad just not that good either. Just kind of plain. The other thing was that I could not no matter what I tried get the sauce to thicken up. I ended up adding some cream cheese to the sauce just to get it to taste like something. I guess I just have to tell you that I will try some of the other Swedish Meatball recipe's on Zaar before I would use this one again.
Preheat oven to 200 degrees. Tear bread into pieces and place in a small mixing bowl along with milk. Set aside.
Melt 1 tablespoon of the butter in a large electric skillet over low heat. Add onion and pinch of salt and sweat until onions are soft. Remove from heat and set aside.
In the bowl of a electric mixer, combine bread and milk mixture, ground chuck, pork, egg yolks, 1 teaspoon of kosher salt, pepper, allspice, nutmeg, and cooked onions. Beat on medium speed for 1-2 minutes.
Using a scale, weigh meatballs into 1 ounce portions and place on a sheet pan (an ice cream scoop heals here). Shape meatballs into rounds.
Heat remaining butter in the skillet over medium-low heat, or set to 250 degrees. Add meatballs and saute until golden brown on all sides, about 7-10 minutes. Remove meatballs to an ovenproof dish using a slotted spoon and place in warmed oven.
Decrease heat to low and add flour to skillet. Whisk until lightly browned, approximately 1-2 minutes. Gradually add beef stock and whisk until sauce begins to thicken. Add cream and continue to cook until gravy reaches the desired consistency. Remove the meatballs from the oven, cover with the gravy and serve.