Brenda.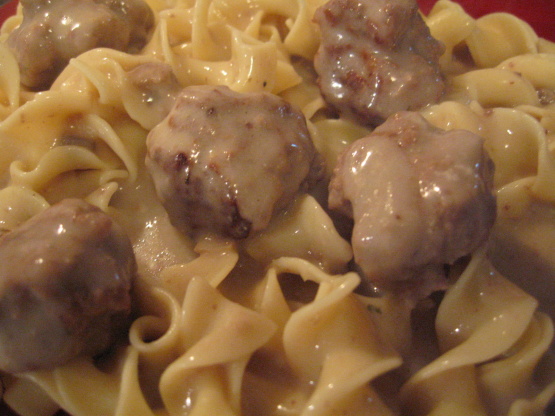 This is an easy recipe. It takes a little time to make the meatballs and brown them but, after you're done browning them, there's nothing more to do until you're ready to eat. Enjoy!
Mix by hand all ingredients except soup and water; form into balls.
Brown meatballs in large pan on medium heat. (I usually turn them two to three times and keep them covered while they are cooking, so the insides get cooked a little.)
Put meatballs on a paper towel to drain excess grease.
Put the soup and 1 full can (10.5 oz.) of water in a large pot or crock pot and stir down large lumps.
Add meatballs to soup.
Simmer for at least 45 minutes on the stove or cook on low for 6-8 hours in the crock pot.
Serve over egg noodles or rice.