aevil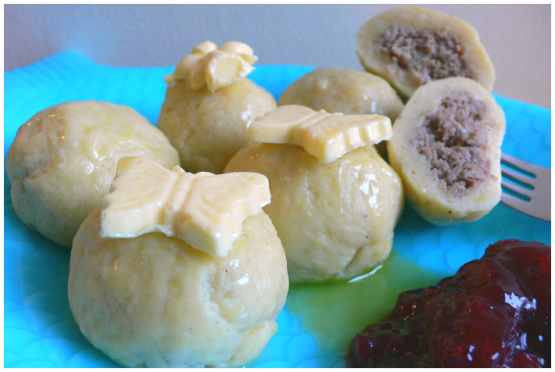 Kroppkakor is eaten all over Sweden and is really old-fashioned cooking. The recipe is varying in different parts of Sweden. It is made with only raw potatoes or raw and boiled or just boiled as in this recipe. The allspice is not something that everybody likes, for me it's a must though. If there are any leftovers I love to slice them in halves the next day and fry them in butter--mmm!! A friend of mine from the north of Sweden does just that but he makes a sauce by pouring milk into the frying pan and boiling it with the halved kroppkakor, he does not want any allspice in his and makes them with both raw and cooked potatoes. This is one of the few dishes that I drink milk with. Lingonsylt is a must all over Sweden; I believe it is called cowberry or red whortleberry. I hope you enjoy!!

This has long been a favorite. My recipe uses salt pork in place of bacon. We make a gravy similar to that used in biscuits and gravy in the USA.
Mash the potatoes.
Stir in egg and flour making a smooth dough.
Fry onion and bacon in some butter.
Add allspice or white pepper to taste, set aside.
Shape the dough into a log with floured hands cut into 12 pieces.
Make a little pocket and fill with about 1 tablespoon of filling.
Close and shape into a ball.
Put about 4-5 at a time in simmering salted water, big pot, and let simmer for 5 minutes.
kakorna will sink and when they have floated to the top they are ready.
Serve with a thin béchamel sauce or melted butter.
A must is lingonsylt.