KissKiss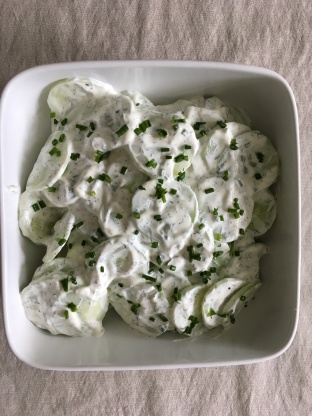 Another great one from my Swedish grandma. This has been on our Thanksgiving and Christmas menu for years.

Bless you for this. It was a recipe my mama never wrote down. I know how delicious it is! T.J.
Peel the cucumbers and slice them thin.
Sprinkle the cucumbers with 1 tsp salt and let stand 30 minutes. Drain.
Combine sour cream, vinegar, chives, dill, sugar and pepper. Pour over cucumbers. Add salt, if needed, to taste.
Chill in the refrigerator for 30 minutes.
Arrange chilled cucumbers on bed of lettuce. Sprinkle with chopped parsley.