Swedish Creamy Dill Prawn Toasts With Caviar - Skagenrora
Rita1652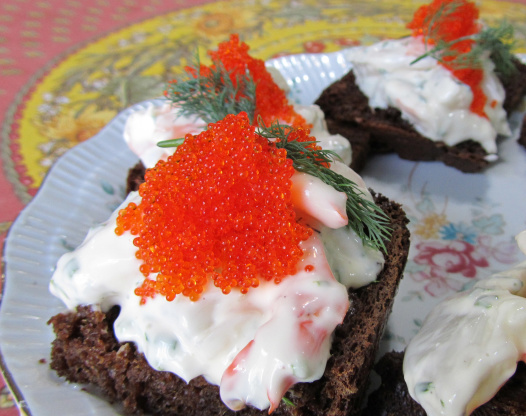 An easy and delightful recipe that makes an elegant starter for a festive cocktail party - served with vodka of course! If caviar is hard to source or is expensive, lumpfish roe can be used. I see this being served for a Midsummer party in honour of the lands of the midnight sun, with assorted vodka cocktails! This festive and very special appetiser was developed by one of the best-known Swedish chefs, Dr Tore Wretman, who served a version of this dish in his Stockholm restaurant in 1958, since when it has become a classic. (This recipe version by Market Kitchen and Swedish chef and cookery writer, Anna Mosesson.)

4-Star for the prawn mixture....minus one for the caviar. Found out I definitely don't like it! And I, personally, loved the fried rye bread as the base for this. Was one of two appetizers made for today's lunch! Thnx for posting, FT. Made for KcK's Forum.
Carefully remove the shells and heads from the prawns. Put the sour cream, mayonnaise, chopped dill, chives and lemon juice in a large bowl. Season with salt and pepper, then stir in the prawns. Add more lemon juice if needed.
Melt the butter in a large frying pan. Working in batches, add the rye bread and fry until golden brown on both sides.
Serve the prawn mixture piled on top of the fried bread and garnish each portion with a dab of caviar or lumpfish roe and a frond of dill.