Prep 1 hr 20 mins
Cook 10 mins
These are great keepers and freeze well. Really chewy...=)Brew a pot of tea and prepare to dunk!
Directions
Preheat oven 375°F.
Mix all dry ingredients.
Cream first three ingredients; add molasses and vanilla.
Mix well and add to dry ingredients.
Mix well.
Chill for 1 hour.
Divide dough into 7 equal parts.
Divide each section into 12 pieces.
Roll dough into a ball then roll in sugar.
Place on ungreased baking sheet and bake for 12 minutes. Let set for a minute or two on the cookie sheet.( The cookies will be puffy, centers will still be soft and the cookie will fall)
Note these cookies will "fall" when you take them out of the oven.
Let cool slightly before putting them on a cooling rack.
Most Helpful
I like the recipe and will try these cookies, but there is no cooking time listed, only a cooling time. How long do I bake them for. M.A. from Lansing IL.,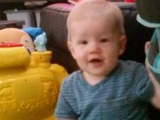 I made these cookies with my sister when she was visiting. The dough smelled kind of weird when it was all mixed together, but once it was baked it was wonderful. This is a very flavorful cookie that even my two small children loved. They were very time consuming to make but it was well worth the effort.