Swedish Cinnamon Rolls (Vegan)
Katzen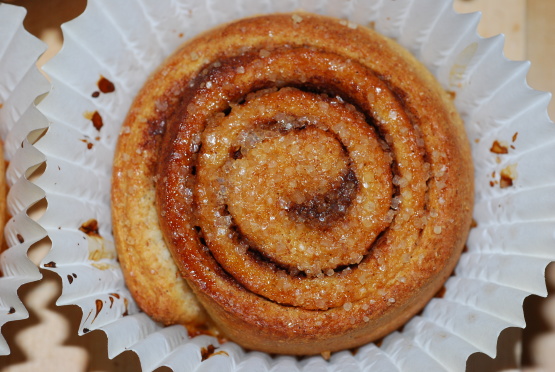 These aren't the gooey sickly sort of cinnamon rolls you get at the mall! They're not overly sweet, the sort of thing you would have with tea or coffee in the morning. I came across this "Swedish" version on the blog: http://dieflaschenpost.blogspot.com. I'm not an experienced cinnamon bun baker, this was actually my first attempt. I can see now why they're so popular, because they're quite fun & easy to make. These have a subtle cardamom flavour, which I suppose you could sub with another spice if you choose. The original version didn't include any whole wheat flour...you could adjust to all regular flour if you choose. I tried it with more whole wheat as well as with oil and the results weren't as good. They're very pretty out of the oven, it seems a shame to ice them! Although, took to a school event and did ice them with a simple frosting to please the masses. :) Prep time includes the approximate rising time.

I really enjoyed these rolls - the dough wasn't difficult to work with and it came out well done, not dry. It goes very well for breakfast and very well with tea in the evening. I didn't have any whole wheat flour, so I took your suggestion and used only all purpose flour, which still made it very good. A mix of powdered sugar with some orange juice and a little bit of soy milk made for a good glazing.
Warm the soy milk slightly - too hot will kill the yeast, too cool won't activate it -- just about lukewarm is right. In a small bowl stir together the soy milk, the yeast and the teaspoon of sugar. Set aside to let the yeast do it's thing.
Add the next 7 ingredients (yogurt to 1/4 cup margarine) to a larger bowl and then add in the yeast mixture. Knead for about 10 minutes until a nice soft dough has formed. Cover and let rise in a warm place for about half an hour, until doubled in size.
Mix the 2 tbsp margarine, 2 tbsp sugar and cinnamon together in another small bowl and set aside.
Place 12 muffin liners on a baking sheet. Roll the dough into about a 10" x 12" rectangle - as close to square as you can get it.
Spread the cinnamon sugar mixture evenly over the dough and then roll it up (roll from the longest side). Cut into 1" slices and place each slice in a muffin liner. Cover again and let rise for another hour, should be doubled in size.
Preheat oven to 425 degrees. Brush the tops of the rolls with soy milk and sprinkle with a touch of sugar. Bake for 10 minutes until golden brown.