Swedish Cabbage Rolls-Kaldolmar
VickyJ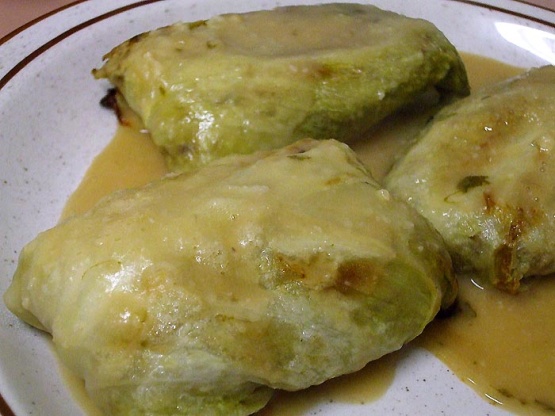 I have grown up eating this. My aunt makes it all the time, and it was grandpa's favorite meal!

Vicky, these are just wonderful! I followed the recipe, including ingredients, amounts and procedures. (Well, I only basted once, but that seemed okay.) I had a little leftover cabbage, so I chopped it up, sauteed it, and added it to the baking dish. I wondered about the allspice, but it's just exactly right. This does make a lot, but I'm planning to freeze some without the gravy, and enjoy them at later meals. Thank you so much for posting this delicious recipe.
Wash cabbage and remove any damaged outer leaves, cut out core.
Bring a large pot of water to boiling.
Add cabbage to wilt leaves while preparing stuffing.
Turn off heat under cabbage, mix together potato, rice, meats, onion, the 1 teaspoon salt, pepper, allspice, sugar, and egg.
Separate leaves from cabbage as they wilt and drain:.
Return cabbage to water to wilt inner leaves.
Shape stuffing into oblong patties and place on core end of cabbage leaf.
Fold over sides of leaf slightly and roll up, tucking in sides of leaf if possible.
It may be necessary to fasten rolls with toothpicks, if used, they should be removed before placing rolls in baking dish.
Mix 3 tablespoons flour and the 1/4 teaspoon salt and roll cabbage leaves in mixture; brown in large skillet.
Remove cabbage rolls as they are browned and place in a large, flat, greased baking dish.
Cover dish with aluminum foil.
Heat over to 300 degrees.
Bake 1 1/2 hours basting frequently with the 2 tablespoons melted butter.
Remove baking dish from oven and place cabbage rolls on a warm platter.
Mix the 1 tablespoon flour and cream in a small pan.
Add the liquid from baking dish: Cook and stir over moderately low heat until thickened.
Season to taste.
Pour gravy over cabbage rolls before serving.