Swedish Baked Potatoes (Hasselbackspotatis)
Bergy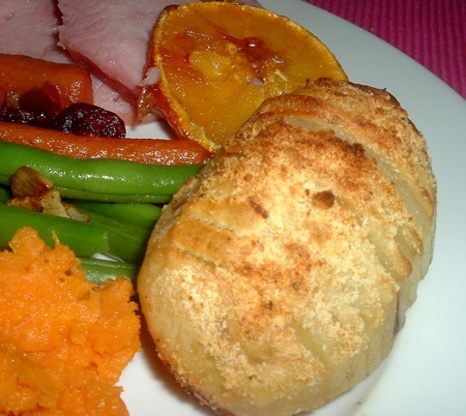 This is a great way to do potatoes. Excellent presentation. Goes well with any dish, meat or poultry

I'm re-reviewing these tonight. They were great. I omitted the cheese and just used the breadcrumbs (lots of cheese in 2 other dishes) they worked better this time than last and really were delicious. Still loved the garlic in them Bergy and now problems with the topping this time although I didn't use the cheese. Here's the original 4 star review....These were good, but most of the topping ended up on the bottom of the dish. Next time, I will omit the breadcrumbs, so there is a stronger parmesan flavour from what does stay on the top of the spud. I make these occasionally, but have never put garlic in them before-loved that! Thanks Bergy for another useful recipe.
Cut the potatoes into thin slices 3/4 way through, leaving a small uncut portion of the potato (fan like).
Put half of the butter and garlic in an oven proof dish and place the potatoes in the dish.
Sprinkle with salt & pepper.
Drizzle with remaining butter and garlic.
Bake in 375°F oven (takes about and hour depending on the size of the potato).
Baste occasionally with the butter in the dish.
After 30 minutes sprinkle with the cheese and bread crumbs- do not baste after putting on the cheese and crumbs.
Finish baking until potatoes are done and golden.