teresas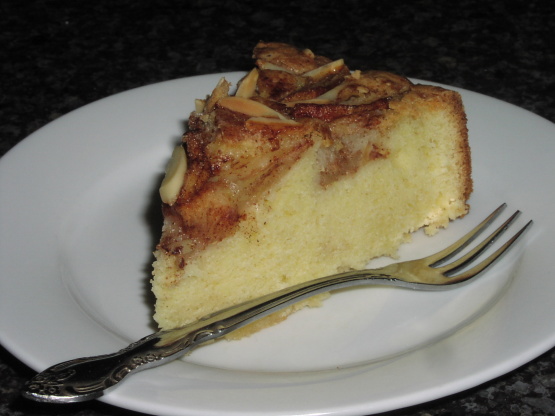 This is a favorite cake in Sweden. It's a simple, buttery cake filled with cinnamon-sugar apple slices. It reminds me of a pound cake, but with a yummy apple cinnamon topping. The presentation is made really pretty by arranging the apple slices. You can serve this as a coffee cake or as a dessert. You can re-heat slices in the microwave if you like it warmed. Recipe from Epicurious.

What a hit this was...served it during a football game...the guys really enjoyed it...as did the women...but the guys went back for seconds...I had to grab one for the photo...It really does remind me of a nice rich pound cake...everyone like the topping but the cake part was the big hit...I cooked it in my 9 inch spring form pan for 1 hour and 20 minutes before it was done...the only negative was that the cake itself stuck to the bottom of the pan...even though I greased and dusted it very well...I was lucky and got it off in one piece...the pour of the left over sugar mixture may have been the cause...but I know the hubby will be asking for this again...thanks for posting it...made for..."For Your Consideration" tag game...in my best of 2015 cookbook...=)
Preheat oven to 350°F Grease and flour pan, preferably an 8½-inch or 9-inch spring form pan.
Sift together flour and baking powder. Set aside.
In a medium-sized mixing bowl beat butter until light. Gradually beat in sugar until fluffy. Beat in first egg, then second egg. Beat in ¼ cup of flour mixture, then third egg. Slowly mix in remaining flour mixture, alternating with the ¼ cup of milk or water. Pour into prepared pan and smooth top.
Peel apples; core and cut each into 6 to 8 wedges. Mix the ½ cup sugar with cinnamon. Roll apple wedges in cinnamon sugar and press wedges into cake batter all over the entire cake. Sprinkle any remaining cinnamon sugar over the top of the cake, and if desired strew a few slivered almonds over the top (optional).
Bake approximately 1 – 1¼ hours, more or less, depending on pan size, until cake tests done when a cake tester is inserted in the center of the cake. Cool briefly, then remove from pan.