Swanson Citrus Chicken and Rice
Annacia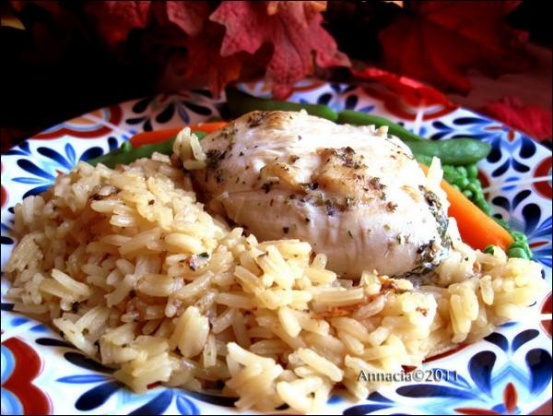 You can use any chicken broth, but Swanson came up with the recipe. It's very easy and tenderly delicious. Nice touch is sauteed orange slices served on top.

Mmmmm, love the orange in this, it really gives a nice perk. I had a wee problem with the rice already absorbing 90% of the liquid in the first 10 mins. I added another 1/4 cup of water (I made 2 servings) covered it snugly and finished it in the oven @ 350f for about 20 mins. The oven steam cooking caused the chicken to pale and lose it's tan but it was well cooked, moist and very tasty.
Cook chicken over mdeium high heat (10 minutes or until brown). Set aside.
Add broth, juice, onion and rice to same pan. Cover and cook over low heat: 10 minutes.
Return chicken to skillet. Cover and cook 10 minutes or until chicken and rice are cooked.
Stir in parsley prior to serving.