Swaddled Jalapeno Peppers
Linajjac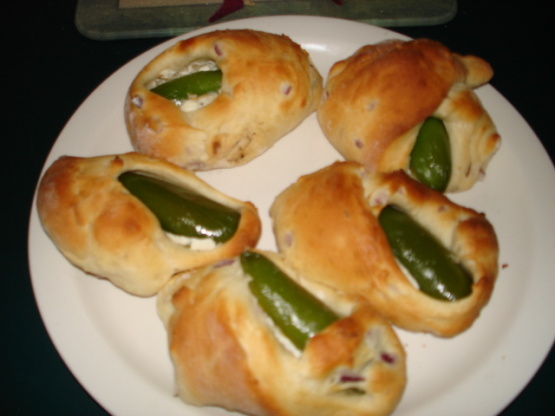 Cream cheese stuffed jalepenos wrapped in crescent rolls and rolled in Parmesan cheese. A 2004 Pillsbury Bake Off winner.

Fantastic! (every time) I've made these a number of times this Summer & Fall using a bumper crop of our jalapeno peppers. We like spicy & I now add some red pepper to the filling. I also roll them in a combination of Parmesan-Romano cheese which is finely shreaded. The flavor is a little more intense. Making them on parchment paper makes clean-up easier but using a silicone baking mat is the best. Great for company. I made the filling the day before. The next day I fixed them, covered, put in fridge and baked later. I needed to add a few more min. to the baking time. They were loved by all! The recipe was wanted by many. Thank you. Thank you.
Preheat oven to 375°F and prepare a cookie sheet with cooking spray.
Combine cream cheese, lime peel, cilantro and lime juice.
Unroll dough on cutting board and separate into 8 triangles.
From center of longest side to opposite point, cut each triangle in half, making 16 triangles.
Spoon 1 teaspoon of cream cheese into each jalepeno half and place cheese side down on cresent triangles with the point end of the pepper near the top point of the triangle.
Fold triangle sides over the jalepeno and pinch to seal.
Fold triangle top over end of the pepper and pinch to seal.
Place melted butter and Parmesan in separate shallow dishes.
Dip dough wrapped peppers in butter then roll in Parmesan.
Place on cookie sheet and bake 10-15 minutes or until golden brown.