Svella Culla (Pickled Fish)
Kansas A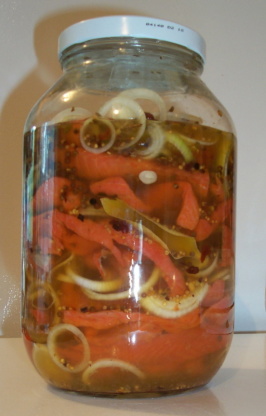 This recipe came to me from my Dad who nabbed it from my Great Aunt Lil. We catch so many sockeye salmon every year and have done just about everything you can think of with them; drying (St'wan), baked and then canned, raw pack canned, smoked, barbequed and now pickled. I have a few more recipes at my blog; http://kansasa.blogspot.com

This recipe was excellent and with excellent results. Just as with pickles you have to rinse, rinse and rinse some more. I actually tip the dish up a bit and leave the cold water running on it for quite some time. If you like pickled herring, then you'll definitely love this recipe too. Salmon is easy to come by where we live and with the amount it makes, my friends and family love receiving it in their Christmas baskets. Thank you so much. I didn't change a thing.
Fillet fish, remove skin, slice thin, layer into an open container with plenty of coarse salt between layers and a thick layer on top. Cover with a tea towel or a breathable cloth, you do not want to put a plastic lid or saran wrap on it as the liquid needs to evaporate off. Leave for at least a month.
After a month dump the whole works into the sink and rinse, rinse, rinse, I let the water run into the container for an hour or so. Cut into strips. Make up the brine and make sure it cools well; you do not want to cook the fish by adding hot brine. Layer in a glass gallon jar with onions, add the cooled brine. Set in the fridge for a couple of weeks and enjoy!