Suzie's Oatmeal Chocolate Chip Cookies
Prep 15 mins
Cook 10 mins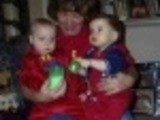 I was sooo excited the first time one of my daughters, after she left home, called me for a recipe!! And this is it! However, it wasn't mine but a friends that she wanted me to call and get! What a let down. Anyway I gave it to her and now to you. Enjoy!!
Directions
Cream the margarine and sugars.
Add the eggs and mix.
Add the water and vanilla, mix.
Mix together the flour and baking soda and add to the mixture Fold in the oatmeal and chocolate chips.
Spoon on a cookie sheet and bake at 350° until they just start to turn brown, if you like them chewy.
Reviews
Most Helpful
Very very good. Wish I had read the comments about cutting back on the sugar before baking them,oh well, next time. My kids really liked them. Thank You for the great recipe.

For whatever reason, the cookies in the pics are more ball like. Mine turned out a lil flat like snickerdoodles. And followed the recipe to the T. Cookies were fine. I agree with a couple of other raters, I would reduce sugar and add some salt to it.
Thanks for the recipe! Made exactly 36 (even with dough-tasting!). I used instant oats, and cut down on the sugar about a third of a cup and they turned out really well!