loof751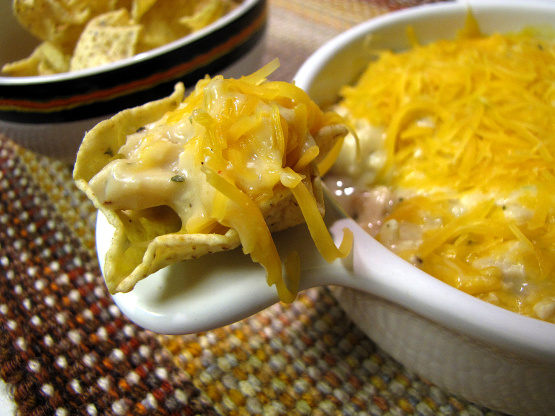 Mexican inspired chopped chicken that can be used in burritos, tacos, or over nachos.Suzanne created this recipe and i like it best over cheese nachos.

Really enjoyed this yummy chicken! I don't care for onions so left them out. I had one big chicken breast left over from a previous night's grilling so that's what I used to make 1/4 of the recipe. I used your suggestion of serving this over cheese nachos, but just topped it with some cheese and dipped the chips in. Loved this creamy chicken - thanks for sharing the recipe! Made for Fall Pick-A-Chef 2011
Cook chicken in oven, then chopped or shredd. In skillet, saute onion, jalapeno, and garlic until tender in a couple of tbsp of oil. Add seasonings and flour. Stir until mixed, then add chicken broth. Cook until bubbley and thick. Add chicken. Cook until heated through. Add sour cream, salt and pepper. Stir until heated through. Serve over cheese nachos, or as burrito filling.