twissis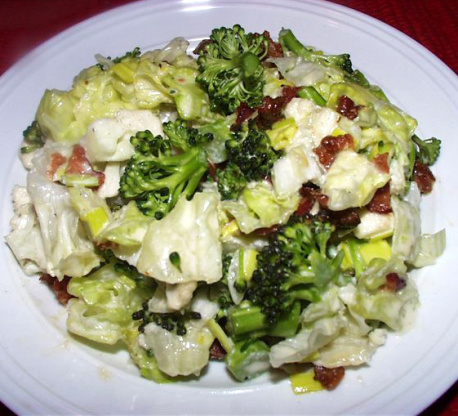 I don't know who Susie is, but my mom has made this salad for years and it is my absolute favorite! Everyone requests this dish whenever we go to barbecues! Don't add the dressing until right before serving or the salad will become soggy. I have made this with lower-fat versions of the dressing ingredients with good results, so feel free to lighten it up.

I am sorry, I don't want to be mean, but this dressing was utterly aweful. It had a very bazzar sweetness to it. I only made this because I needed something fast and it had 6 rave ratings. I am so glad that I only made a half of what it called for. I had to add some rice vinegar, pepper, some fresh garlic, some salt to salvage. It will have to do for now. I understand that everyone has different preference but this is definitely not it.
Place salad ingredients in a large bowl.
Mix dressing ingredients in a small bowl.
Right before serving, add dressing to salad, and mix very well.