JustJanS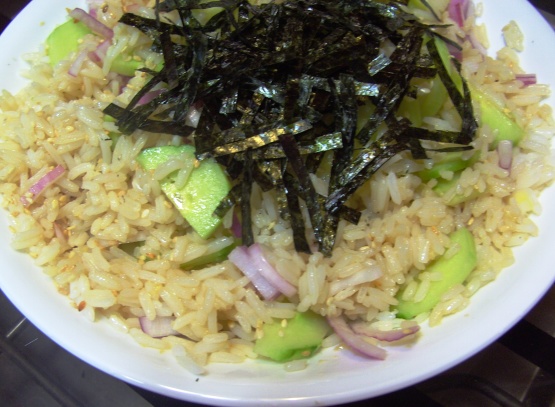 From Cooking Light (March 2002).

The great thing about this recipe is that it is flexible. Add stuff you like (chopped red cabbage is a personal favorite), omit stuff you don't. Do watch the vinegar, it does benefit from sugar. Also I don't use any salt because of a restricted diet. Experiment and enjoy!
RICE: Rinse rice thoroughly in a sieve.
Drain well.
Bring 2 cups water to a boil in a medium saucepan; add rice and salt.
Cover, reduce heat, and simmer 20 minutes or until liquid is absorbed.
Remove from heat; uncover and cool to room temperature.
DRESSING: Combine vinegar and next 6 ingredients (vinegar through wasabi) in a small bowl.
Combine cooled rice, dressing, cucumber, onion, and sesame seeds in a large bowl.
Sprinkle evenly with nori.