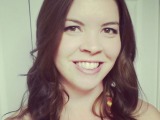 I tried making this after watching the Good Eats episode "Wake Up Little Sushi" with Alton Brown. It turned out really great. The original recipe called for 1 tbsp of kosher salt, but some reviewers said that it was way too much and that 1 tsp was plenty. I made this using only 1 tsp of kosher salt, so that is how I've posted it here.
Directions
Place the rice into a saucepan and cover with cool water.
Swirl the rice in the water, pour off and repeat 2 to 3 times or until the water is clear.
Place rice and 2 cups of water into a medium saucepan and place over high heat; Bring to a boil, uncovered.
Once it begins to boil, reduce the heat to the lowest setting and cover; Cook for 15 minutes.
Remove from the heat and let stand, covered, for 10 minutes.
Combine the rice vinegar, sugar and salt in a small bowl and heat in the microwave on high for 30 to 45 seconds.
Transfer the rice into a large wooden or glass mixing bowl and add the vinegar mixture.
Fan the rice (a paper plate works well) while gently folding in the vinegar mixture.
Allow to cool to room temperature before using to make sushi or sashimi.
Most Helpful
Nice! Great taste, directions and very easy to handle during rolling.

Simple and tasty sushi rice recipe. It doesn't get any better than this. I used this recipe to make Recipe #178696. Made for Jan. 2011 Bargain Basement Tag Game.