Bergy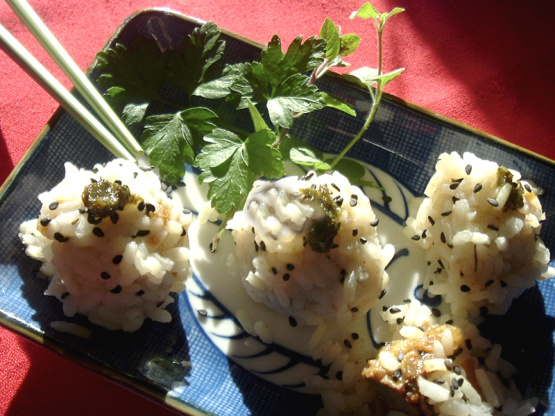 These sushi poppers are tasty and do not require an expert to prepare. Young children would find these fun to make.

These were very good, however I think I prefer traditional sushi. I missed the seaweed, and found rolling the traditional sushi easier than making these poppers. The flavor was very good though, and it was a nice change.
In a large shallow dish, spread rice and sprinkle with seasoned rice vinegar and sesame seeds.
Using a wooden spoon, toss gently to combine, (DO NOT STIR or rice will clump).
Keep rice covered with a damp cloth if not using immediately.
Using wet fingers, place a rounded teaspoonful of rice in the palm of your hand and roll into a ball.
Make an indentation in the center with your finger.
Place your choice of desired filling in the indentation.
In small bowls, make up a combination of fillings that you enjoy.
Dip fingers into water and pack rice firmly around filling to make a small ball.
Repeat with remaining rice and your choice of filling.
Sprinkle each popper with toasted sesame seeds and a dot of wasabi paste and place on a platter.
Cover with plastic wrap and keep at room temperature until ready to serve.