Bergy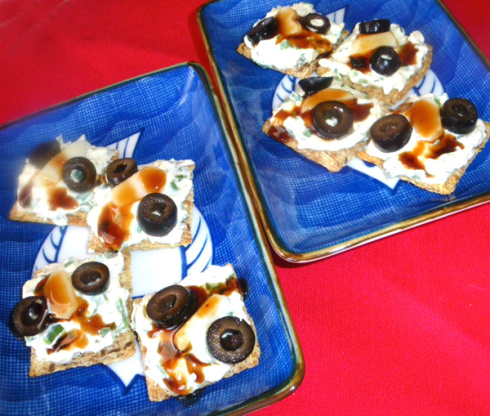 I was asking my neighbor if he knew where I could buy some good bagels so that I could use up the rest of my cream cheese. Instead he invited me over to his place and we made these awesome crackers.

Top Review by Bergy
What an easy tasty appetizer - We really enjoyed them - I had some open sliced olives in the fridge so I put couple on each. Used raw Jalapeno in the Lite cream cheese - It all went together so weill - The triscuits were Deli Rye - very tasty. Thanks for post ing the recipe
1. Spread cream cheese on crackers.
2. Place small slice of pepper on cream cheese.
3. Dribble some teryaki sauce on top.
Enjoy! *they taste like crunchy sushi*.