Susan's Sweet and Tangy Meatloaf
lazyme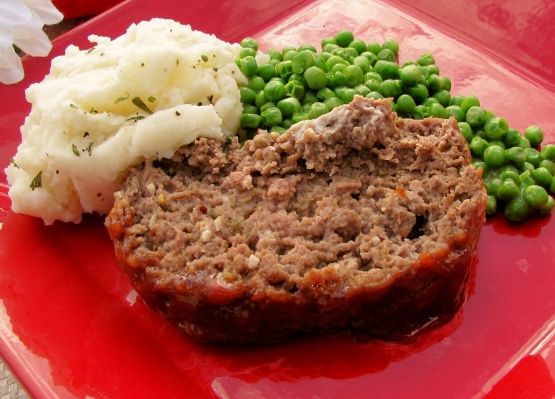 I snagged the basic recipe for this from AllRecipes.com but have changed it a great deal to suit my family's tastes. My husband is not a fan of meatloaf but BEGS for this one, as do my 2 and 4 year old. It's super easy and can be made early in the day and then just spread the sauce on top and bake. It's sweet, tangy and a bit spicy! I bet everyone will ask for seconds!

Simple and delicious, I did some amount adjustments and added in some cayenne pepper, I used seasoned salt and lots fresh ground black pepper, I also used spicy ketchup for topping, I made this for the Pink event, thanks for sharing Chicago, this will be enjoyed for dinner tonight!
Preheat oven to 350 degrees.
In a large bowl, combine the ground beef, bread crumbs, egg, garlic, worcestershire, crushed red pepper, salt and pepper. Mix well and place into a 9x5 inch loaf pan.
Bake in preheated oven for 30 minutes.
Meanwhile. in a separate medium bowl, stir together the ketchup, brown sugar and apricot preserves and pour over the meatloaf.
Bake another 20 minutes.