Susan's Perfect Lemon Bars
May M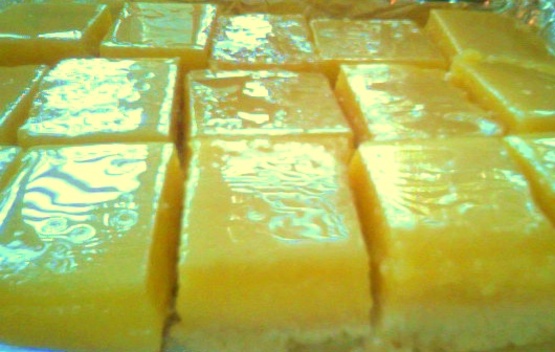 This recipe is from a Cook's Illustrated article by Susan Logozzo about perfecting the lemon bar. NOTE: The lemon filling must be added to a warm crust. The 30 minute chilling time and 20 minute baking of the crust should allow plenty of time to prepare the filling. If not, make the filling first and stir to blend just before pouring it onto the crust. Prep time includes 30 minute chilling time for crust.

Top Review by May M
WOW! I should've known Cook's Illustrated would find the perfect balance of sweet and tangy. I've made this twice now, each time halving the recipe and baking in a 8x8 square pan. The only change I made was to use 1/4 tsp lemon oil (not extract) for each half recipe in place of the zest. Lemon oil is potent and gives my bars that extra tang. What I love best is that the filling cooks to a beautiful smooth finish (I do strain the mixture with a fine mesh strainer before pouring it over the hot crust). The cooked filling does not get eggy or crusty or chewy at all. I don't even sprinkle confectioners sugar on top as I want to show off the silky yellow filling. The shortbread crust is sweet but not overly so, and is not dry at all, but just sturdy enough to pick up a bar without it crumbling into pieces. Yes, these really are Susan's PERFECT lemon bars. Thank you very much for posting the recipe!
Adjust oven rack to middle position and heat oven to 350°F.
Lightly butter a 9 x 13 inch baking dish and line it with a sheet of parchment paper.
Dot parchment paper with butter, then lay a second sheet of parchment crosswise over the first one, allowing the ends to extend over the top edge of the pan by about 1 inch.
To Mix Crust in Food Processor: In a food processor, fitted with steel blade, pulse together the flour, confectioner's sugar, cornstarch and salt to mix well.
Add 12 Tablespoons butter and process to blend (about 8 to 10 seconds), then pulse until mixture is a pale yellow color and resembles a coarse meal, (about three-1-second bursts).
To Mix Crust By Hand: Mix flour, confectioner's sugar, cornstarch and salt together in a medium bowl.
Freeze butter and grate it on the large holes of a box grater into the flour mixture.
Toss butter pieces to coat.
Rub coated butter pieces between your fingers for a minute, until flour turns pale yellow and coarse.
Sprinkle crust mixture into parchment lined pan.
Using both hands, firmly press mixture into an even, 1/4" layer over the entire pan bottom and about 1/2" up the sides.
Refrigerate for about 30 minutes.
Remove chilled crust and bake at 350°F for about 20 minutes, or until golden brown.
Filling: Prepare filling while crust is baking.
In a medium bowl, whisk eggs, sugar and flour.
Stir in lemon zest, juice, milk and salt; stirring to blend well.
Remove crust from oven, and reduce oven temperature to 325°F.
Stir filling mixture to reblend and pour over warm crust.
Return bars to oven and bake about 20 minutes, or until filling feels firm when lightly touched.
Remove from oven and place pan on wire rack to cool until almost room temperature (at least 30 minutes).
Grasp the edges of the lengthwise parchment paper (long sides of the pan) and lift the lemon bars out of the pan and onto a cutting board or counter.
Carefully peel the paper down from the sides and using a pizza cutter or knife, slice them into serving size bars, wiping pizza cutter or knife clean between cuts as necessary.
Sieve confectioner's sugar over bars, if desired.
Leftover bars can be sealed in plastic wrap and refrigerated for up to 2 days.