Susan's Crispy Fish Fillets
Chickee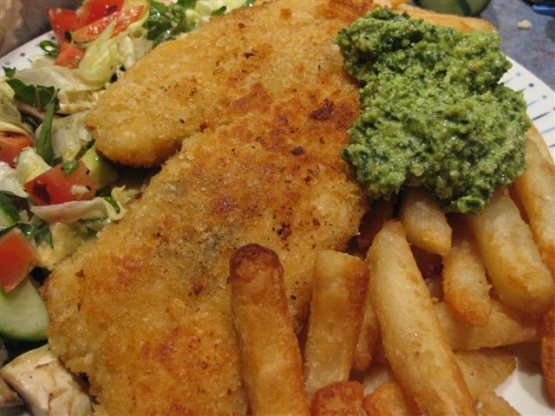 I found the basis for this one on Allrecipe's but due to my family's preferences and ingredients I had in the house, I changed the original recipe and came up with this one and we LOVED it!!! You can use any mild white fish for this one but we use thin flounder fillets and it is pure heaven in your mouth! The original recipe called for using instant mashed potato flakes but since I never have that, I subbed in Panko and YUM!!!!! I hope you enjoy this as much as we do!

This was delicious and so easy!!! I subbed corn meal for flour and plain bread crumbs for Panko. Didn't have garlic powder so I used onion powder, Mrs. Dash, and some dried basil. Forgot the black pepper and do not use salt. Very VERY tasty, fast, and easy meal to make!!! We tossed a salad and steamed some fresh broccoli for a complete and healthy meal! Thanks for this.
Put flour in a bowl.
In a shallow dish, whisk together the egg, mustard and salt.
Place panko crumbs in yet another bowl and add in garlic and pepper.
Dust fillets with flour, then dip in egg/mustard mixture and then press into panko.
Heat enough oil to fry one fillet in a large heavy skillet over medium-high heat. Fry each fillet individually and put a small amount of oil in before each fillet rather than the full 1/4 cup all at once since it seems doing it this way causes me to use WAY more oil than needed.
Fry fish fillets in oil for 3 to 4 minutes per side or until golden brown.
Serve with fresh squeezed lemons.