Susanna Foo's Jalapeño Peppers With Pork Stuffing
loof751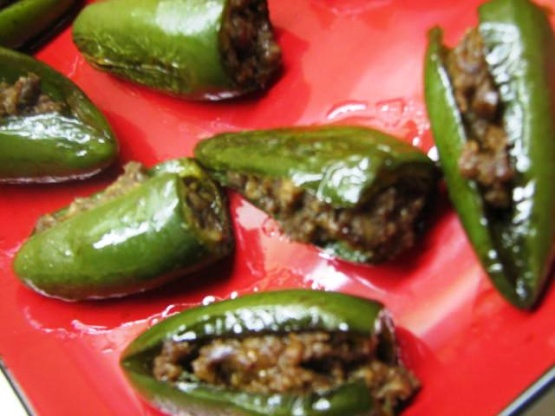 A fusion of southwest and Asian! Delish. You can use ground chicken as well. Susanna Foo's restaurant is in Philadelphia.

An unusual take-off on the traditional poppers. Loved the flavors with the pork. I had a hard time stuffing them--tried the first four and decided that I would just cut the peppers in half and stuff the tops. I also baked them at 325F for about 30 minutes since we didn't want to saute them. They came out wonderful! I would for sure make these again as they are so unique! Made for ZWT5
453.59

g large jalapeno pepper

226.79

g ground lean pork

14.79

ml brandy

29.58

ml water (more if needed)

118.29

ml minced scallion

4.92

ml peeled grated gingerroot

14.79

ml minced fresh thyme

29.58

ml soy sauce

14.79

ml sesame oil

29.58

ml corn oil, for sauteeing
Remove the stem from each pepper. Slice the peppers in half lengthwise on one side, cutting almost to the tip; leave the peppers joined at both ends. With the tip of a vegetable peeler, remove the seeds; set aside.
Place the pork in a small bowl and add the brandy. Stir in the water, 1 tablespoon at a time, until the meat mixture is soft. Mix well.
Add the scallions, gingerroot, thyme, soy sauce and sesame oil; mix until thoroughly combined. Open each pepper carefully and stuff it with some of the meat mixture, pressing it in firmly and keeping the pepper whole.
Coat a large nonstick skillet with the corn oil and heat. Without crowding the pan, add the stuffed peppers to the skillet. (Depending on the size of your skillet and the number of peppers, you may have to fry them in batches).
Cover the peppers and cook over low heat for 5 minutes. Turn and continue cooking until the peppers are tender and the meat is thoroughly cooked, about 15 minutes. Serve at room temperature.