Surprisingly Superb Weeknight Taco Salad
VickyJ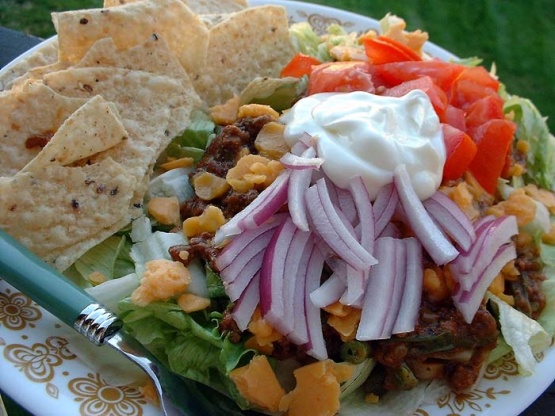 I re-invented the wheel here. I looked at the taco salad in my favorite Mexican restaurant and thought I could make a simpler, healthier, more flavorful version at home. I was also determined to come up with something that is fairly quick to make, especially if you enlist a little help from the rest of the peanut gallery!
Brown ground turkey or beef and garlic (minced) in skillet over medium heat.
Drain any grease away.
Meanwhile shred the head of lettuce into small pieces and dice tomatoes to desired size.
When meat and garlic mixture is done, add salt and pepper, stir.
Break tortilla chips up into desired size and place in individual serving bowls.
Add desired amount of meat to bowls, followed by desired amounts of lettuce, tomato, cheese, sour cream and salsa.
Serve and enjoy.
note: I sometimes use more tomato, but it's really up to your personal taste.