Surprise Simply Potatoes Seafood Bake #5FIX
JasChiu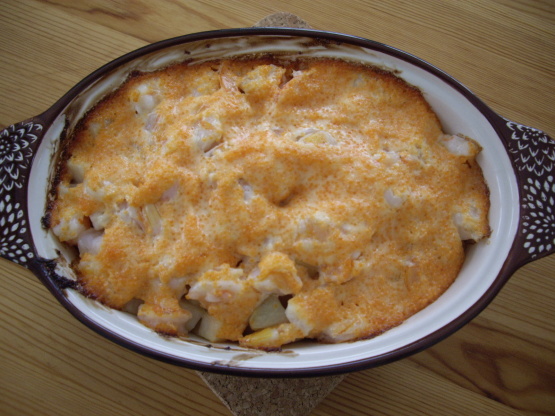 5-Ingredient Fix Contest Entry. This recipe is inspired by Japanese cooking. If you are not in the mood of cheese today, this could be a great option. Easy to make and fancy enough to serve your guests. The small box of Tobiko can be bought at Japanese supermarket, or Asian grocery store. And buy the deveined shrimp will save you time too. You can also use other kind of seafood like scallop instead of shrimp.
1

(20 ounce) package Simply Potatoes Diced Potatoes with Onion
1⁄8 ounce tobiko (flying fish egg)

15 -20

shrimp
1 1⁄2 cups mayonnaise, dressing
1⁄2 teaspoon salt
1. Preheat oven to 400°.
2. Cut shrimp into small chunks.
3. Mix mayonnaise, Tobiko, shrimp and salt in a bowl. Pour the mixture on the top of the diced potatoes in a baking dish.
4. Bake for 20 minutes. Then change oven setting to Broil, and cook for another 8 minutes. Let it stands for 5 minutes before you serve.
Great to serve over rice, or with sandwich bread.