Surprise Chocolate Chip Muffins
Redsie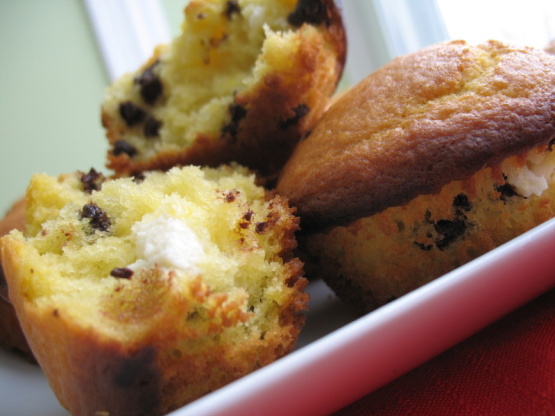 Top Review by Debber
Super Star!!! Made it exactly as stated, enjoyed immensely and have been told to add this to the KEEPER file. Actually this will become my new FIRST STRING muffin recipe! These muffins rise beautifully, get a nice crusty edge which has a delightful chewiness; not to mention the incredible (and easy to make) cream-cheese filling. Mmm.....mmm.....mmm!!!
Heat oven to 400°F Grease bottoms only of 12 regular-size muffin cups with spray, or line with paper baking cups. In small bowl, mix all filling ingredients until smooth; set aside.
In large bowl, beat milk, oil and egg with fork or wire whisk. Stir in remaining muffin ingredients just until flour is moistened. Divide batter evenly among muffin cups.
Place about 1 rounded teaspoon filling on batter in each muffin cup. Top with remaining batter.
Bake 20 to 25 minutes or until golden brown. Immediately remove from pan to cooling rack (may need to run knife around side of muffins to loosen). Cool 5 minutes. Serve warm or cool.