Surf & Turf Spinach Roll Ups
Bobtail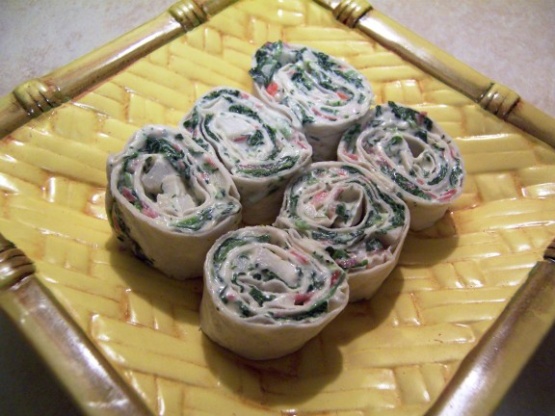 This is a different take on the usual spinach roll up appetizer. Very tasty. NOTE: Should your yogurt be loose or runny, drain for a couple of hours in a coffee filter set in a strainer to get rid of some of the excess moisture.

This is certainly very tasty! I made one half of the recipe, using regular mayo, crabmeat and the rest of the ingredients as listed. My nonfat yogurt was very loose, so I think this affected the consistency of the spread, even after chilling overnight. Mine stayed a little soft, but did not affect the taste. I really admire people that can roll these type of recipes into a round roll! LOL! You could successfully double or triple this recipe for appetizers. This is not a "daintly" flavored appetizer! The spices and other ingredients meld and are heartily flavored. Next time, to tweak it to my personal taste, I would cut back a little on the dill and definitely try it with shrimp too! Very good! I will remember this one when making appetizers for parties or just a small get together! Thanks MysteryGirl!
In a large bowl, combine mayonnaise and spices.
Mix well.
Stir in spinach until well blended.
Add dried beef and crab meat.
Divide evenly and spread over the 12 tortillas.
Roll each tortilla up jelly-roll style.
Wrap tighly with plastic wrap.
Refrigerate overnight to allow the flavors to meld.
To serve, slice each tortilla into 6 slices and arrange on a platter.