Jubes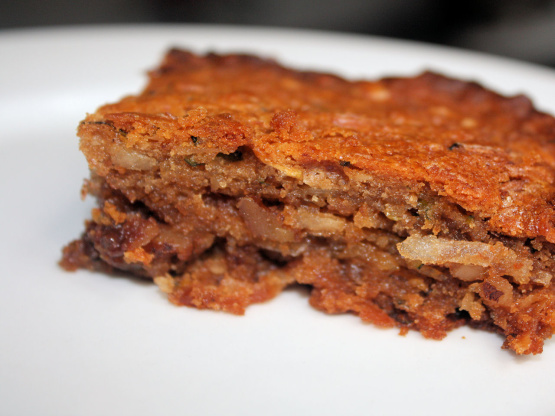 I called these Suprise Bars because of the fact most people are surprised when they find out there is Zucchini in here and these are also Gluten Free! (Bet you can't eat just one!)

These are excellent and I will definitely make them again. I was a little concerned at the large amount of cinnamon in these but it wasn't over-powering at all. Nice to have recipes that are written for gluten free. Thanks for posting this!
Preheat oven to 350 degrees.
Cream butter with brown sugar and honey. Add the eggs and then the vanilla. Mix well.
Combine all the dry ingredients together in a bowl, stir into batter. Stir in the zucchini, coconut, walnuts and chocolate chips.
Grease a 12 x 9 pan, pour in batter and bake 35 0 45 minutes.
Cool and enjoy!