Brenda.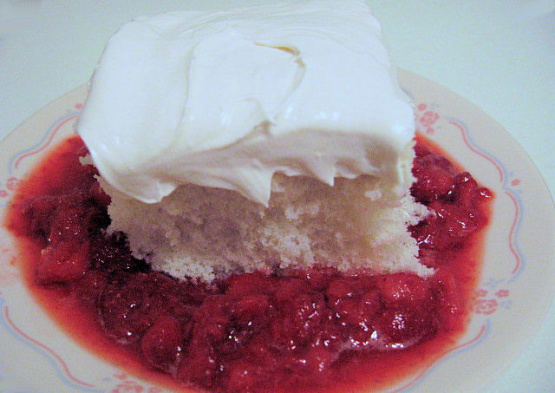 I got this recipe from a woman I worked with in Germany (not sure where she originally got it). I am posting it the way she wrote out the recipe but she also gave me some variations. You can substutite strawberry cake mix for the white mix and you can use fresh strawberries instead of frozen (which I prefer). If you substitute the fresh strawberries for the frozen you don't have to store the cake in the freezer, the refrigerator is fine.

This was a nice ending to our New Year's Day meal. I had sweetened mashed berries in the freezer so we made more of a shortcake type cake out of this as the cake and frosting was so high in the pan I could not pour the berries over and freeze as suggested. I used an 8 ounce container of cool whip as that is what I had on hand. The frosting is creamy and dreamy. Thanks for sharing.
Prepare cake mix according to package directions using water, vegetable oil and egg whites.
Icing:.
With electric mixer beat cream cheese and powdered sugar until well blended. Fold in cool whip and add vanilla extract. Spread over prepared cake.
Top with strawberries and place in freezer until about 15 minutes before serving.