lets.eat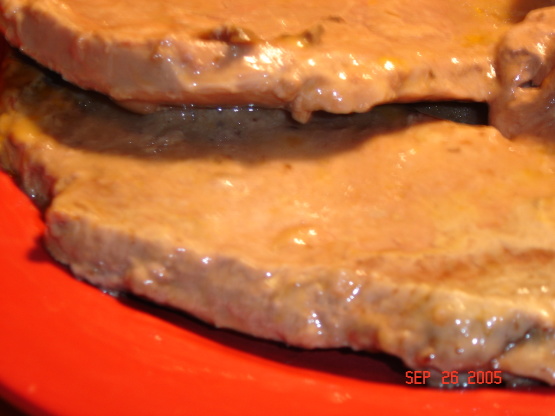 A big game hunting buddy of my husband's dreamed up this round steak dish. He puts it on before they go out hunting and it's ready when they come in for supper at night. It's very easy to prepare and can cook happily along in a crock as well as the conventional oven. It's a great dish for people who work all day. It's done when you get home-just slice some Italian or French bread, throw a green salad together and sit down and enjoy.

This comes out incredible! It is the way I prepare London Broil. The meat literally falls apart and the sauce/gravy is awesome. It is great served with buttered egg noodles. The only difference in my recipe is I only use Cream of Mushroom soup, not the Golden Mushroom. My mom made this a lot when I was growing up and she passed the recipe on to me. Now my family loves it as well...I just don't tell the kids there is mushroom soup in it!
1

whole round steak (any thickness desired)

1

(10 3/4 ounce) can condensed golden mushroom soup

1

(10 3/4 ounce) can cream of mushroom soup

1

(1 1/4 ounce) envelope dry onion soup mix

1.5

(10 3/4 ounce) cans water (use empty soup can)

1

fresh garlic clove, minced
Trim fat from meat.
Sprinkle with minced garlic.
Mix cream soups with water.
Pour over meat.
Sprinkle dry onion soup over top.
Bake 325°F oven for about 2 hours, or, place in crockpot in morning, low setting, 6-8 hours.