Superb Stir Fried Brussels Sprouts
Boomette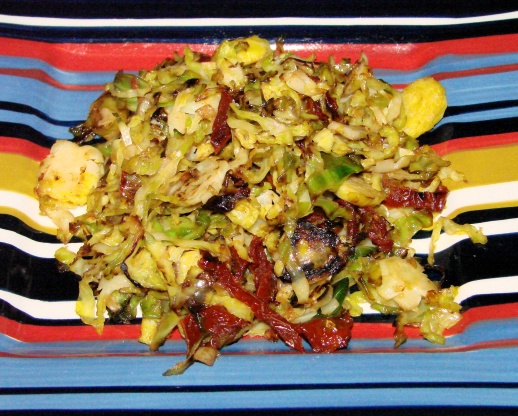 If you've never stir fried sprouts before, then dust off that wok and get to it! Tnis is a superb way to handle Brussels sprouts, crisp, tender and tasty!!!
Heat your wok over high heat until very hot, add the olive oil and swirl around once.
Now add the garlic and stir fry for a few seconds to scent the oil.
Immediately tip in the sprouts (before the garlic has a chance to burn) and stir fry constantly for about 4 minutes until the sprouts are cooked-you are aiming for tenderness with a residual crunch.
Stir in the sun dried tomato strips, the lemon zest and lemon juice to taste; then stir fry for a final 30 seconds or so.
Taste and season with salt and pepper if necessary.