Super Vegetable Pesto Pasta With Pan Seared Oven Roasted Chicken
Drazen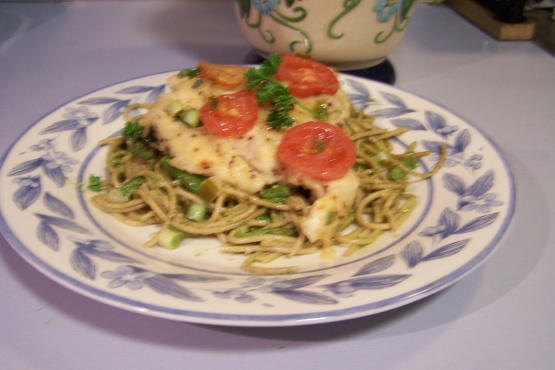 I have tried many different pesto recipes and tried to combine what I liked most from all of them to create this pesto sauce. I LOVE baked tomatoes with basil and balsalmic vinegar, so that is why I added these three to the recipe. The asparagus was on hand and thought it would bring a nice flavor to the recipe, as well as the scallions.

I made this just like written. It was just ok to me. I gave it 3 stars, but my family thought it was a 4 star. If I were to make it again, I think I would just use the bottled Classico Basil Pesto. This pesto did not have the flavor I like in the bottled sauce. I always enjoy making new recipes, so thank you for posting.
Place pin nuts in a non-stick skillet and toast over medium heat until slightly browned (3 to 5 mins).
While pin nuts are toasting, put remaining 9 ingredients in a food processor.
When pin nuts are toasted add them to the food processor and mix pesto sauce until smooth.
In a large pot, start boiling water for pasta.
Preheat oven to 375 degrees.
While water is coming to a boil, cut up the asparagus, scallions and tomatoes, keeping them all separate from one another.
Cook spaghetti according to box directions. Add asparagus to water 5 minutes before pasta is fully cooked, strain, and replace in pot over lowest heat setting. Add pesto sauce to spaghetti and mix.
Heat oil in oven proof skillet over medium-high heat.
Fillet chicken breasts in half, sprinkle with grill seasoning, coat with flour and place in skillet and cook 2-3 mins on each side until slightly browned.
Add tomatoes and scallions to chicken and place skillet into preheated oven.
Cook chicken for 15-20 minutes.
When chicken is done, remove from oven.
Place Pesto-asparagus pasta on a plate and place a slice of chicken on top. Garnish as desired.