Super Vegan Healthy Nachos
Jubes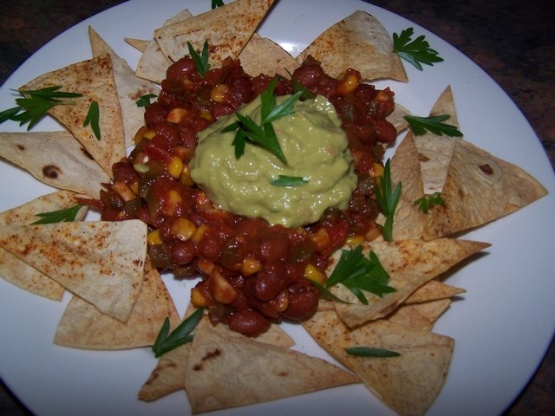 My boyfriend loves all things Mexican flavoured, I think because of all the cheese, sour cream and meat (stop drooling, Steve!) Here's my attempt at making a healthy vegan supper which he will enjoy. Of course, cheese could also be added for non-vegans.

Top Review by maize
Easy and filling! I used tortilla chips. Since I had 16 oz cans of tomatoes and black beans I used those in the yummy mix, to which I also added 1/2 tsp oregano and 1 tsp cinnamon. I put it in the microwave for a total of 8 minutes, stirring every 3 minutes. Since I have vegetarians in the house, I sprinkled shredded cheddar cheese and lime juice on top of the tortillas and baked those at 350 for 5 minutes. This recipe turned out tasting fresh and satisfying, not gooey. Thanks!
Blend the avocado, lime juice, onion and tomato by roughly mashing or pulsing in a food processor. Set aside.
Spray the corn tortillas with oil and bake until crispy. Set aside.
Meanwhile, simmer tomatoes, beans, vegetables and spices together for about 30-40 minutes, until reduced and thick.
Arrange corn chips on plates, spoon over the vegie-bean mix, and top with a dollop of the guacamole. I often garnish this with chopped cilantro, or shredded scallions.