Super Tasty Chocolate Cake
Chou7151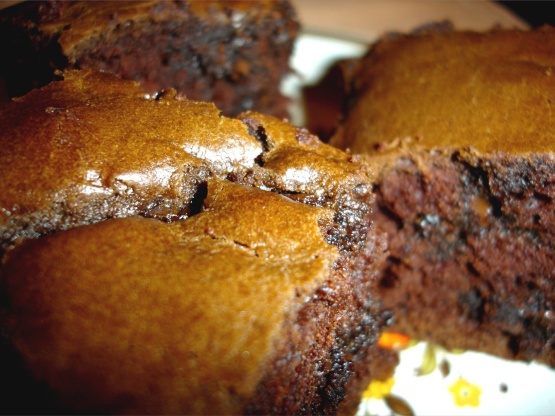 This cake is very tasty, chocolatey and moist. You'll dirty up a few bowls, but it's worth it!

It is certainly worth washing up the bowls! Indeed, it is a super tasty chocolate cake. The only thing I did different was adding the chocolate chips to the cocoa/water and mixing it all together. Baked the cake in a loaf pan holding 9 cups and that was the perfect size. The cake baked in exactly 50 minutes. Very yummy! Thanks for posting.
Preheat oven to 350°F.
Grease and lightly flour a 9" square pan.
In a large bowl, sift together flour, baking soda and salt.
Set aside.
In a small bowl, stir cocoa and water into a smooth paste.
Set aside.
In a large bowl, cream together shortening, sugar and vanilla until light and fluffy.
Beat in the eggs one at a time.
Mix in the flour mixture alternately with the buttermilk.
Mix in the cocoa paste until thoroughly combined.
Stir in chocolate chips.
Pour batter into pan and bake in oven for 40-50 minutes, or until baked.
Let cool slightly and serve.