GaylaJ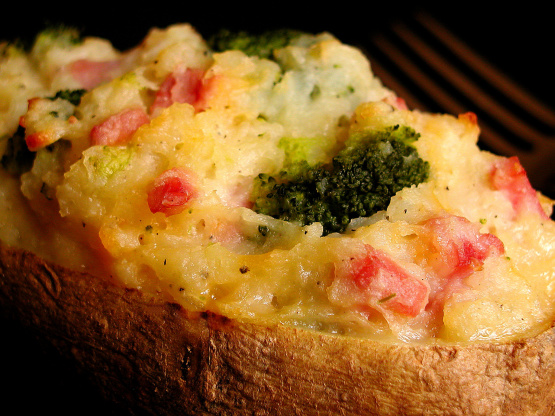 3 of 4 food groups in one yummy potato.

A very quick weeknight meal. I had some broccoli that needed to be used, so I whipped these up, scaling it down to two potatoes. I used half milk and half sour cream for a little extra creamyness, and Dijon mustard. DH & I both enjoyed these filling & nutritious potatoes with a salad and whole-wheat rolls.
Scrub and prick potatoes all over.
Wrap individually in paper towels and microwave on high for about 10 min or until potatoes are soft, turning half way. (*I usually time it for 5 minutes for 1 potato and 2 minutes per additional potato*)
Preheat oven to 400°F
Slice tops off of potatoes and scoop out flesh into bowl leaving a thin wall in skin.
Mash flesh with butter, milk, mustard, salt and pepper until smooth and well blended.
Stir in broccoli, ham and cheese.
Spoon mixture back into skins heaping if necessary.
Place on baking sheet and bake for 20 minutes or until heated through and tops are golden.